10 Bathroom Renovation Tips
Bathrooms are an important space in your home. A well-designed bathroom update can add a lot of value to your house, and provide you and your family with comfort and style. Here are 10 things to consider before having your bathroom renovated: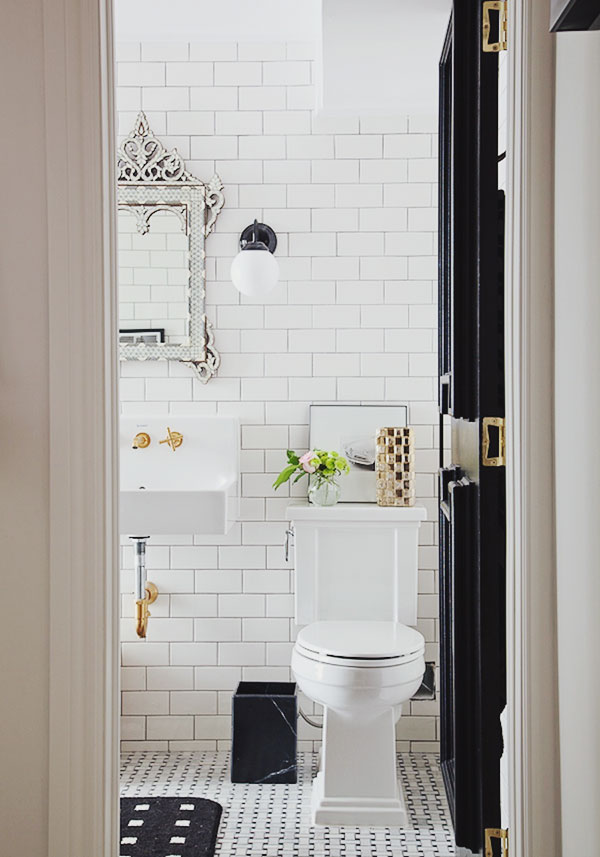 Photo via Style Me Pretty Living
Choose classic and elegant features.
Choose fixtures that have smooth and classic lines – like a pedestal sink or a curving tub. Classic fixtures will stand the test of time.
Try out a tub before you buy it.
Sit in a tub before you purchase it to see how comfortable it feels. Bigger isn't always better when it comes to tubs!
Choose durable, warm flooring.
Ceramic or marble tile are booth good choices for a durable bathroom floor, but consider installing in-floor heating first so that these surfaces aren't too cold.
Install a statement mirror.
A large, stylish mirror can act as a beautiful focal point for a room for not much extra cost. Look for an interesting frame rather than a plain beveled mirror.
Make hidden storage.
Consider having a recessed cabinet or shelf built between the studs when you have your renovation done for more storage options.
Have a shower area built.
A large, open shower that's fully tiled and water proof with a large glass door (or no door) is a luxury that is less confining than a shower stall.
Find new space.
If your bathroom is an ensuite next to a closet, consider rearranging your floor plan a little to make your bathroom larger before you renovate.
Don't forget the power of good lighting.
A combination of overhead lighting and sconces work really well in a bathroom. Consider a full redesign of your light locations before you have new fixtures installed.
Buy a good toilet.
A quality toilet is really important – don't buy a really cheap one! Toilets with elongated seats are usually the most comfortable.
Include a little luxury into your bathroom.
For not much extra time or cash, you can include indulgent little extras in your washroom like wiring for a TV or a space for a makeup vanity and stool.
The Greenovator Corp is currently ready to take on more bathroom renovation jobs in Parkland County! If you need your bathroom renovated and want to talk to us about options and a price quote, please contact us today.