An Ultra Modern Man Cave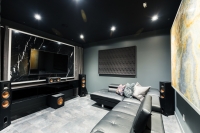 I started this man cave theater room when we built our home and it was framed at about 3am one morning when I was trying to beat the drywall installers that were scheduled for the next day. The whole house building thing was a lot of fun – ha!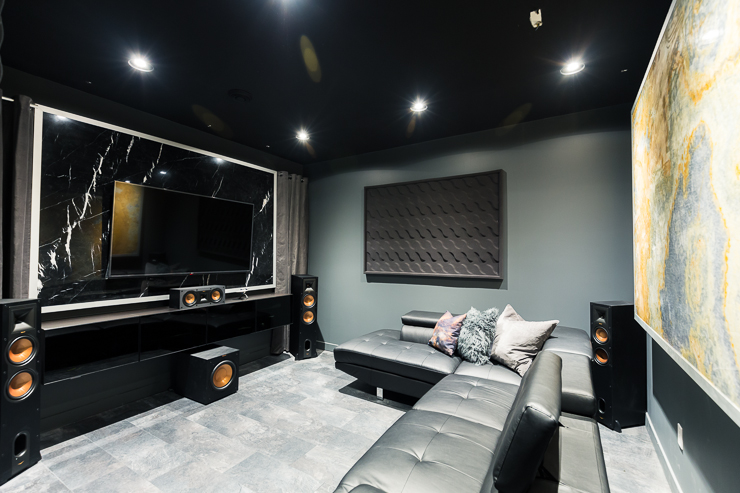 At that time, I put in a wall speaker wire to the top corners of the room and one for center channel. I had a vision of everything in the ceiling. I didn't end up using this or all the cable I ran for the projector location, but I think it is always a good idea to run extra cables and wires in case you want to expand on your system in the future. About 70 percent of the wire I installed here will be used in a 2.0 theater setup that will be revealed one day soon. It's also what I came up with at 3 am after 9 months and many sleepless nights of house building!
When I was told by my beautiful and talented wife that I would get to finish my theater room, I went back to planning it again. I changed my mind on what I wanted, so I went back to pulling more wire. Wire is cheap however, and not having wire where you want it is very expensive and time consuming if you are cutting out drywall and patching etc.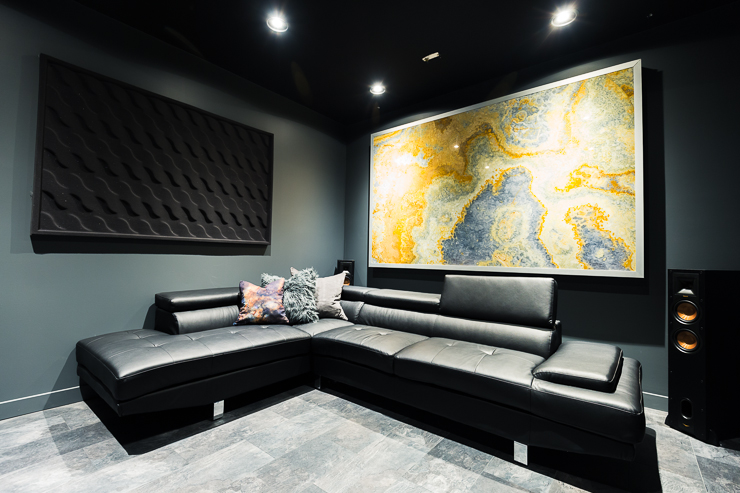 For the speakers, I wanted the big floor standing variety, so I ran new wire around and left good access to all areas. I fished the wire around the room so it was hidden in the walls and ceiling. Since I'm an electrician by trade, I have equipment like fish tapes and rods. If you don't have these, both can be found for less than $100. Sometimes it's just unavoidable that you have to cut drywall if you want everything hidden.
Right now we have a 5.1 surround setup in this theater room. I have it wired for a system called Dolby ATMOS which has what are called Presence Speakers that reside in the ceiling. I have a great Yamaha receiver that supports a 7.2.2 setup. This will be the expanded final vision and like I said – after many years of pulling wire you will never regret the wire you have pulled. However, you will always regret pulling one wire short! All the speaker wire was pulled to the cabinets. In addition to speaker wire, power network and video cables were run from my mechanical room.
Up in the wall behind the TV, I ran all of the necessary wires from the receiver, DVD, Playstation and TV.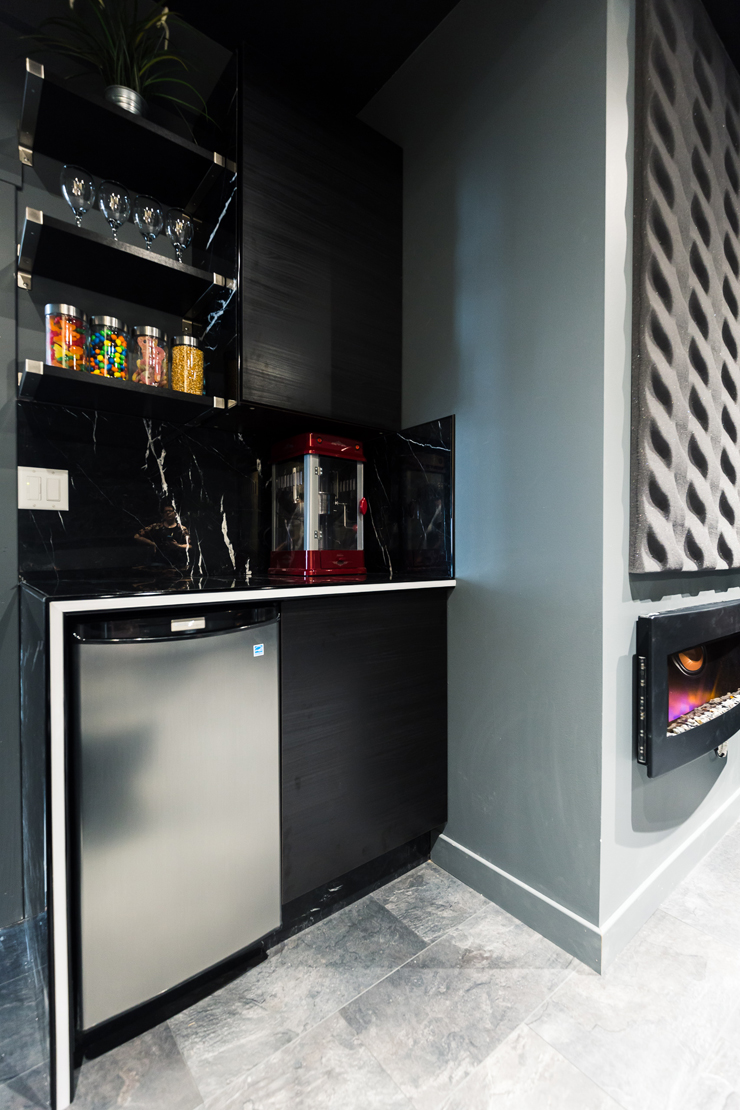 For the bar area, I installed a circuit for the fridge and another for the popcorn maker.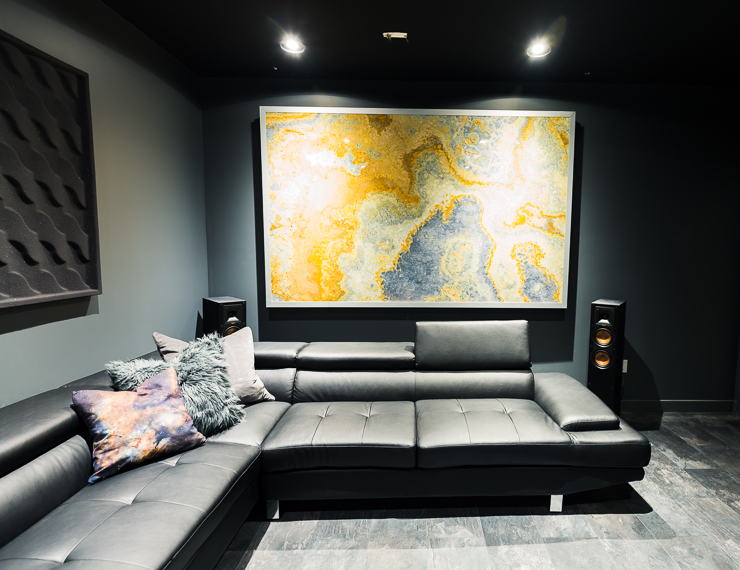 I installed the bar with just regular cabinets and wrapped some Prima Stone panels around them for a custom counter and back splash. I also did the stone back for the TV, the onyx stone wall hanging and the mounting of all the sound mats, curtains and shelving.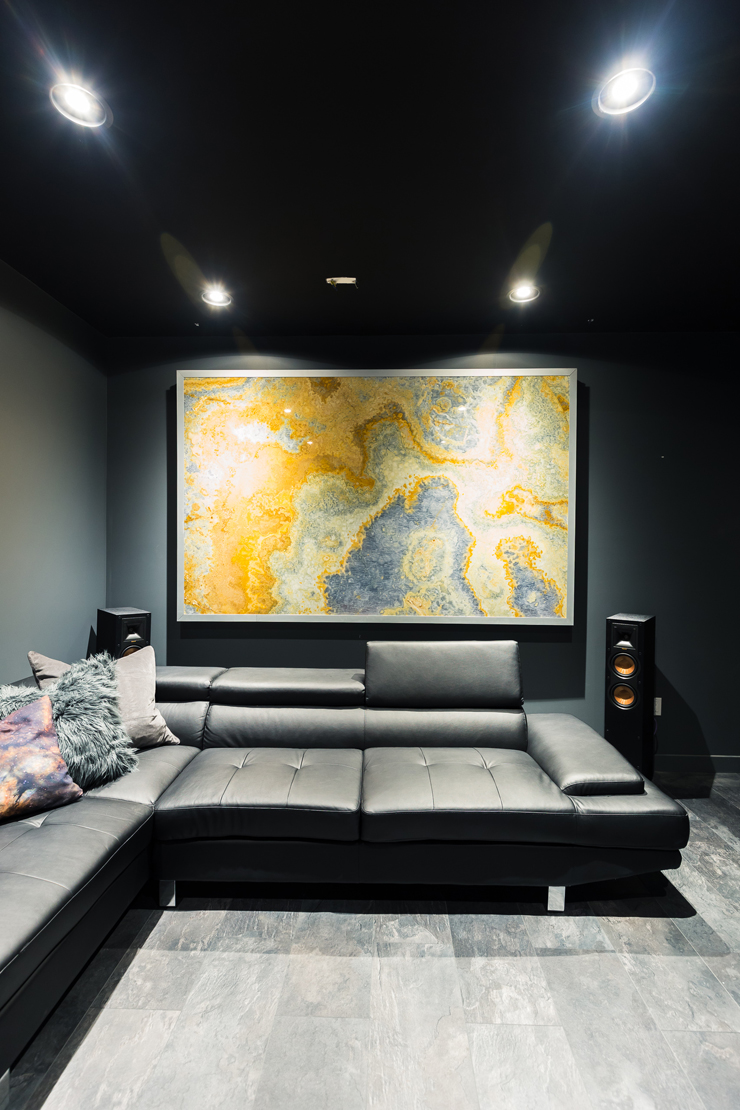 My beautiful wife worked with me, went against her style and indulged my futuristic style while toning down some of my ideas. This was probably for the best thinking back on it. She kept me on track and it's helpful to have a designer to bounce ideas around until you get the look you want. She also kept me from eating the candy in the bar area, and if you look you can see I had to stack Sour Soothers up against the front of the jar because I ate to many before the shoot.
I am really happy with the way the theater room turned out, and I'll spend many hours gaming there and watching movies with the kids. The sound is awesome and I'm happy I have the option for it to get even better if I want to get more speakers. I can just hook them up to existing wired locations, and it's great to know that's a future option!
If you have a room in mind for a theater room, whether it's only at stud phase or a renovation, I can help you design and build your own custom theater setup. Contact me for more information.
Photo Credits: Therrien Photography