How To Make Your Small Bathroom Feel Bigger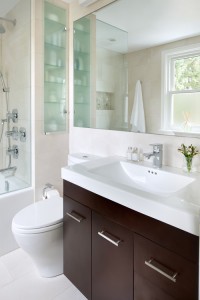 Small bathrooms are quite common, but sometimes they can feel TOO small. Want to make your tiny bathroom feel bigger? Here are some tricks that will do just that. Before you renovate, consider these ideas to make your bathroom feel more spacious:
Try a Floating Vanity
The empty space around a vanity that sits up off the floor will make the room feel larger.
Add A Banjo Countertop
A countertop that extends over the toilet not only visually enlongates the room, but it adds extra countertop area for storage.
Extend the Mirror
Installing a large mirror that covers almost an entire wall is a great way to add more lightness and brightness into a small bathroom.
Use Bold Pattern on the Walls
Not for the faint of heart, a deep and bold patterned wallpaper or paint treatment in a large scale can make a small bathroom feel more spacious.
Which idea do you want to try in YOUR bathroom?
We're now open for Spring bathroom renovations if you need help with your bathroom redesign. You can contact us today for a price quote.