Brilliant Onyx, Stunning Lighting and Endless Possibilities….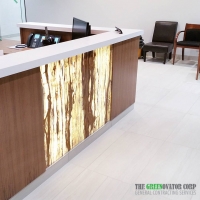 Custom Built Backlit Onyx Features
Are you looking for a spectacular, one of a kind, custom made Onyx feature wall for your home? Imagine a stunning piece of Onyx stone, brilliantly lit to create a dazzling display of colors and textures. Whether you're looking to add a small feature to compliment your décor or a dramatic display piece, we can custom build exactly what you're looking for.
How does it work?
Onyx is an ancient stone that is naturally formed in caves by dripping stalagmites and stalactites. This natural process creates very unique characteristics and patterns in the stone, setting it apart from any other precious stone. Another unique property of Onyx is that when sliced thin, it becomes almost translucent, allowing the opportunity for illumination.
We'll custom build a frame to house high quality LED lighting behind the Onyx to give your piece consistent, even, energy efficient lighting. You can choose from either white LED lights in 3500K – 6000K or RGB LED lights that will give you thousands of color options to create your own unique lighting effects. These lights are digitally programmable so you can put your feature on a timer and program special effects such as waves and patterns.
As each piece is custom made, we can make an LED backlit Onyx feature into anything you want! In addition to a feature wall, you could have an impressive water feature, modern bar or countertop, fireplace mantle, wall sconce… endless possibilities!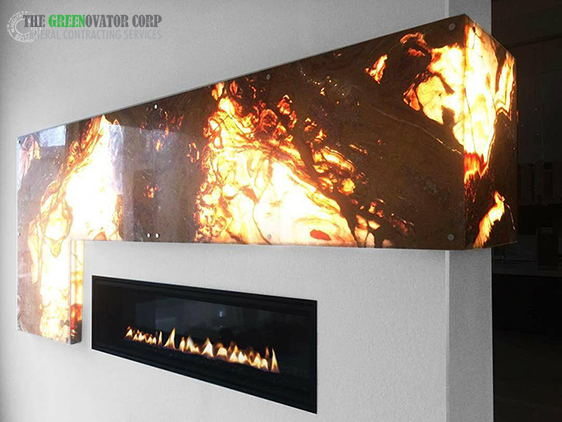 Our LED Onyx Features are built and sourced in Edmonton, Alberta
Hiring The Greenovator Corp in Alberta gives you the advantage of local, exceptional customer service and a one year, hassle free warranty. You'll also be able to view and pick out the specific stone panel that you want from a variety of colors and patterns including Bamboo Onyx, Tiger Onyx, Green Onyx, Blue Onyx, Panda White, Wooden Grey Marble, Wooden White and Zulio.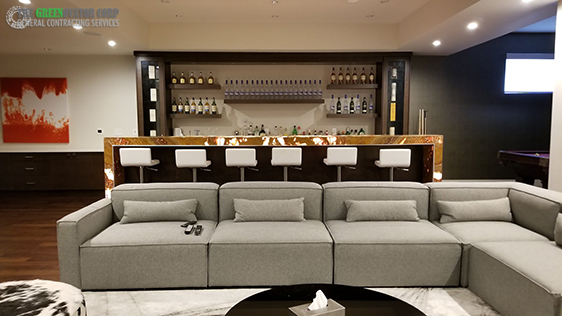 Contact us today for an estimate on your Custom Onyx LED Feature.