4 Reasons to Invest in Spray Foam Insulation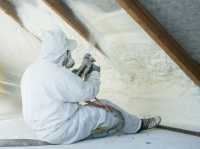 Spray Polyurethane Foam (SPF) is a spray applied plastic that expands instantly to fill every nook, cranny and crevice; creating an airtight seal around your home. We highly recommend spray foam for your next Alberta home renovation because in this unpredictable climate, we need all the protection we can get from the long, cold winter.
High R-Value
The R-Value is the capacity of an insulation material to resist heat flow. The HIGHER the R-Value, the greater the insulating power. The R-Value depends on the type of Spray Foam you choose, but for closed cell that value comes in at a rating of 7 per inch and open cell is 3.5 per inch. If you wanted to compare this to a fiberglass insulation, the R-value of that option is approximately 2.2 per inch.

Energy Efficient
When it comes to sealing tight spaces, nothing beats Spray Foam. Gaps, holes and air leaks are the number one cause of high energy bills! Common places in your home that could be creating costly air leaks include; the furnace flue, plumbing vents, electrical wiring holes, recessed lights, appliance vents, outdoor faucets, windows and doors. By insulating these areas, you will:
Save yourself hundreds of dollars in energy costs,
Make it difficult for crawling insects to enter your home, and
Improve sound proofing within your home.

Long Lasting
Spray Foam does not settle, sag or deteriorate over time. It stays in place, insulating your home effectively for decades.
Resistant to Water Damage
When Fiberglass insulation gets wet, not only does it mold but it's R-Value plummets and you'll have to replace it. However, spray foam insulation can survive flooding because it doesn't absorb water and therefore doesn't rot, rust, or mold.
At The Greenovator Corp,  we're committed to providing our Alberta clients with affordable, energy efficient solutions for their next home renovation. Contact us today for an estimate.